02.11.2020
Anniversary in a new brand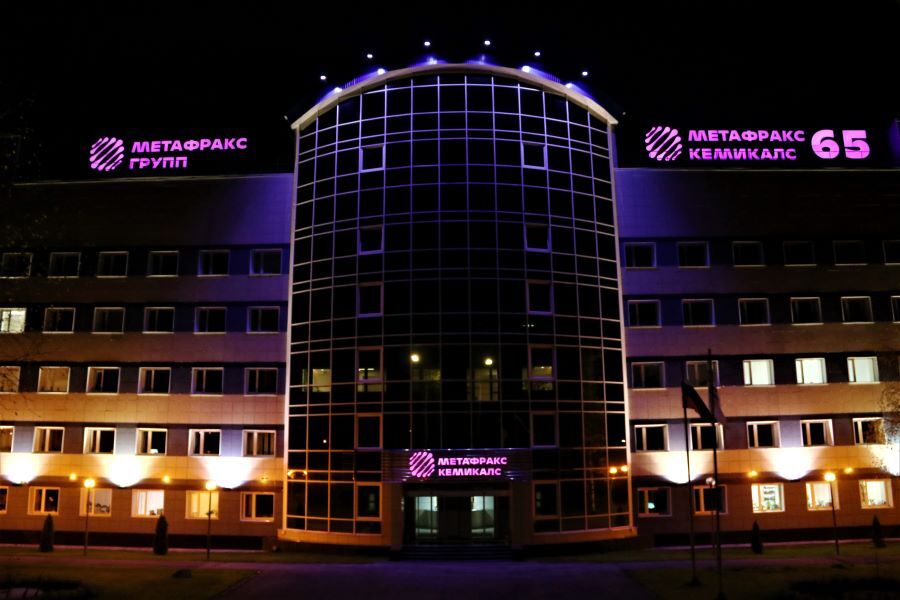 Metafrax Chemicals designs the company's facilities under a new brand. Renovation of facade signs and entrance lobbies at the company's facilities started in Gubakha. In particular, the main building of the plant and the reception area of the company received the new design. The office building is decorated with a facade sign with a logo dedicated to the 65th anniversary of the plant. Also in accordance with the new brand, the signboard of Metafrax hotel in Gubakha and a car filling station of MetaTransStroy LLC were renewed.
According to Maria Konovalova, Head of Metafrax Group Communications, the process of implementation of the new brand continues at the locations of all Metafrax Group companies, both on communication media and in navigation systems.
In the Perm office of Metafrax Trading, the branding of the interior is carried out: a new navigation board and signs, the actual board of the largest regional investment project for the construction of "Ammonia-Urea-Melamine" complex (AUM) in accordance with the modern look of this massive construction are arranged.
Metadynea Russia, Metadynea Austria and Karbolit have also renewed facade signs on buildings. In the Moscow office of Metadynea there is the ongoing design of entrance lobby. In the industrial park of JSC Karbolit In Orekhovo-Zuyevo there is a project to implement intra-platform navigation. For Metafrax Group companies new sites and landings are designed, standards for the design of internal documents of companies are implemented, branded office stationery is actively used.
Metafrax Group announced the beginning of rebranding in September 2018. The creation of the new brand structure was entrusted to the multi-channel branding agency Electric Brand Consultants. The presentation of the new brand was held in October 2019 at the Perm Engineering and Industrial Forum. As per the project results, a new strategy and complete brand architecture were developed, in which a new parent brand was created, bringing together all sub-brands of Metafrax Group located in Russia, Austria, Switzerland and South Korea.
In August 2020, the new brand of Metafrax Group was awarded the prestigious international design award Red Dot in the category "Brands & Communication Design 2020".
"The process of brand implementation is gradual and will last for several years. We continue to supplement the brandbook, develop and implement standards of design for buildings of the Group companies. The next step will be the design of transport under the new brand: wagons, cars, as well as storage tanks and packing. The communication strategy developed for effective brand implementation will help us convey the philosophy, mission and values of Metafrax Group to our target audience", highlighted Maria Konovalova.